@
THE LURE

Fisher-women, in the middle of the stream of many gentlemen in the River named Akasaka or Roppongi? Four well experienced professional singers allied to sing, not to fish together. When we speak about any female chorus group everybody imagines trio but this group has very rich, smooth and elegant harmony naturally as they are quartette and so planned. We have no doubt about their skill to weave delicate harmony of their own manipulating every note under their perfect control.

In 1999 INDIGO in Nishi-Azabu held third Christmas Party when Eriko Ohara, owner & resident pianist together with Michiru Maqui, legend idol wanted to present some setting to give big surprise to the party attendants and prepared a female vocal quartette as special devise. The devise, needless to say, perfectly worked as it was planned to attract every people there at that evening.

Listening to the ladies' superb harmony and subtle phrasing we were somewhat discouraged at what we could do on our own. The four males went, funny enough, out of their mind to have forgotten the fact why the amateur group can never do more.
Michiru retired from the group for her solo activities. Hitomi Noro, Okko is her nickname, joined into Lure in January 2002. She was a college folk singer in early time and she is a studio singer like Kayo and Kayoko.
Michiru is pleased to hear that Okko joined.
We should say the quartette is odd enough as it is consisting of unique individuals in character of each.
Kayo Issue
Do you remember the title tune of 11 P.M. with scat
vocal "dabadaba, dabadabac.!!" That is her voice.
She taped so many CM songs which we are sure you ever listened to. The leading figure among the studio musicians - with her voice always riding on
rhythm.


Fumiko Suzuki
The well experienced jazz singer carrying manyfans specially in live scene. She learned jazz from Kuranosuke Hamaguchi when she was university student. The young grand-ma who started her career as professional jazz vocalist at her age of 40.

KAYOKO WADA
She is a studio musician as well. The lady, figure cute and voice charming, when intoxicated, no! not
"Sophisticated", always attracts friends by doing
something funny. She has a luxurious but tiny chauffer driven limousine. After good quantity of wine at partiesw she is ruled to be picked up by the chauffer, her husband.

HITOMI NORO
When college folk song was popular in Japan, There was a folk duo "Okko & Mimi" and released a record from King Record, Okko is herself.
She has been singing many genre of music for a long time, and has a long career of chorus.
THE LURE by four professional vocalists may collapse any time as each member carries lots of works to take care individually. You should get earliest opportunity to listen to them. There exists no tapes, no CDs. It's now or never!!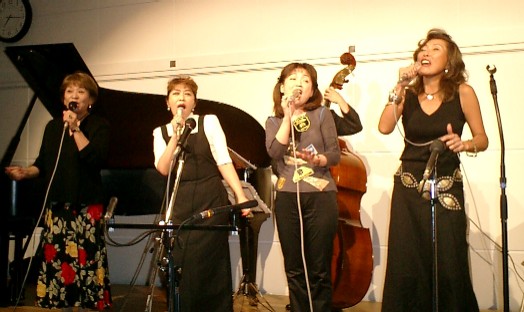 The Lure (group #2) at Nichi-Futsu Kaikan, Sept. 2002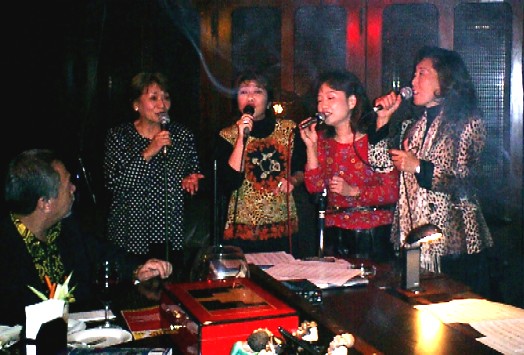 The Lure (group #2) at All of Me Club, Sept. 2002
The listener in front of the Lure is Ai George, old famous Latin singer in Japan.
@
@